The Vayu® Instant Messaging service provides a robust, reliable Instant Messaging solution for your global wireless communication needs.
Secure, Robust Instant Messaging Service and Wireless Gateways
The solution is particularly appropriate for reducing costs and response time in field operations, supply chain event management, and IT infrastructure management in manufacturing, telecom, transport, utility, financial service, health care, and law enforcement.
Vayu® Instant Messaging Service performs two unique functions that significantly reduce the time and cost of resolving time-sensitive, mission-critical business problems: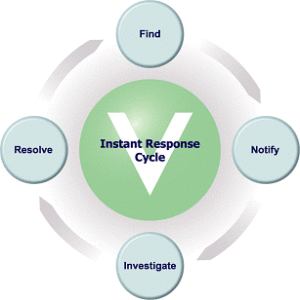 Vayu enables enterprise applications to automatically and intelligently find and notify distributed enterprise workers of business problems that require instant response.  Presence, Availability and Location (PAL) Server dynamically tracks workers' ability to respond to problems using real-time data about where they are, what they are doing and whether or not they are qualified to solve the problem. Vayu notifies selected workers, securely and in real-time, using instant messages sent to their desktop or mobile devices.
Vayu enables workers to collaborate with other workers and other enterprise applications, remotely and in real-time, in order to rapidly investigate and resolve business problems.  Instant Response Server manages bi-directional interactions between enterprise applications and enterprise workers. Response Agents enables distributed workers to interact with enterprise applications remotely using instant messages sent from the same Instant Messaging-enabled device that found and notified them.
By enabling both application-push (Find and Notify) and worker-pull (Investigate and Resolve) interactions, Vayusphere provides a single, secure platform for Closed-Loop Instant Response.
Benefits
Increase productivity while away from your desk. Use an IM client to check on orders, request service, talk to field technicians, or just see who is available before you call.
Improve customer service. Reduce lag time in your business processes by responding to events immediately.
Maintain competitiveness in an increasingly mobile workforce. Win by providing instant response from the field.
Increase your return on investment in enterprise applications by making your applications available on mobile devices.
Vayu® Instant Messaging Highlights
Full function Instant Messaging clients with TLS  encryption
Compatible with all standards compliant XMPP servers, including Jabber XCP, OpenFire/Wildfire, eJabberd, Jabberd 2.0, and others
One to One Chat
Multi-user chat. Vayu Messenger client uniquely supports Multi User Chat rooms and Persistent Channels
Optimized Roster Views  feature make it easy to find your conversations and contacts.
Notification Alerts available via Sound, Vibrate or LED
Works on Wi-FI or Cellular Data enabled mobile devices
Chat transcripts are stored on your device so you can refer to previous conversations
Custom Status messages and Auto Idle detection keep your contacts up to date on your status.
Works with your existing compliance solutions where needed
Always On. Integrated mobile  experience with an always-on mode that enables the client to continue running in the background even if you switch to another application
EDITIONS
The Enterprise Edition is best suited for corporate deployments of at least 2500 users and offers deeper integration with your enterprise infrastructure.
Custom Authentication schemes. It is possible to transparently authenticate clients based on Single Signon
Branding Services available to change logo, images and menu items
Custom enhancements and modifications
Carriers, OEM, Private Label and Resellers
Vayu® Instant Messaging is available for  OEM by the leading GSI vendors. Contact us to OEM/Private Label this solution for your  product or your application.
Evaluation and Purchase
Contact Us for an evaluation license for the service.