Vayusphere Instant Response (IRiS) is chat-based platform for creating real-time interactive response agents and  chatbots for service desks, help desks and contact centers. IRiS converts your existing chat client into a real-time dashboard for querying any enterprise application. It routes actionable notifications and alerts from work-flow enabled applications to users immediately available to respond. It then closes the loop by capturing responses from any instant messaging enabled device.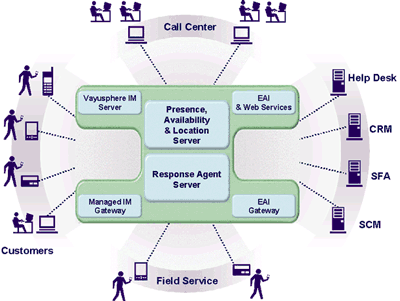 IRiS is particularly suited for deployments in Fortune 500 Help Desks, Service Desks and customer support portals. It has been deployed in leading companies in the Financial Services, Healthcare, Energy, Technology and Service Provider sectors.
Vayusphere chatbots are targeted for Enterprise Self Service and ITSM integration to deflect contacts from the Service Desk and Help desks, leaving agents free for higher complexity tickets. These leverage leading NLP/AI services such as Open AI, Microsoft Cognitive Services, Google DialogFlow and IBM Watson
When used in the Service Desk, Vayusphere is able to offer real-time chat translation
Additional applications of Vayusphere IRiS include Urgent Messaging and real-time alerting applications. These allow for delivery of real-time alerts to desktops, IOS and Android devices.
While traditional instant messaging is used for people-to-people communication, IRiS uses presence and availability information to intelligently route urgent messages from applications to users and uniquely closes the loop by capturing responses from users and delivering those responses directly to your enterprise applications.
IRiS is also available as OEM software to other ISVs and WorkPlace and End User Computing (EUC) partners.   ISVs can quickly integrate presence awareness and IM into their existing applications and portal products by using the IRiS SDK. EUC vendors, call center vendors and outsourced help desk service providers can add chat support into their multichannel contact center products and services. Enterprise and Consumer IM providers can offer IRiS to increase the customer loyalty and ROI on IM deployments.